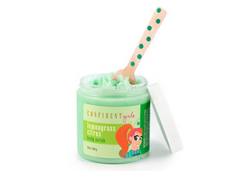 Lemongrass Citrus Whipped Sugar Scrub Gentle Skin Exfoliation
A delightful lemongrass and citrus whipped sugar scrub for gentle skin exfoliation. This luxury exfoliating sugar scrub is a year-round favorite with its vibrant color and aromatic properties. Hydrating and moisturizing while removing dry, flaky dead skin cells to reveal healthy glowing skin. Both men and women love this scrub. Great for hands, full body, feet, knees and elbows. Gentle enough to use daily. An amazing rejuvenating scrub for even sensitive skin. 
Sugar scrubs are great for all over body but are also extremely effective in softening calloused skin on hand, feet or dry prone areas like knees and elbows. Complete moisturizer as you gently remove dead skin cells that are known to clog pores and make skin look dull and lifeless. 
Great for self-care gifts to yourself and all the special girls in your life. Perfect for adding gift tags with custom messages or quotes for bridal shower favors, birthday party favors and more.
Using only the most natural ORGANIC ingredients so you can be proud of what goes on your skin!
For more fun, moisturizing and rejuvenating skincare or gifts be sure to visit us at: Confident Girls.
SPECIFICATIONS

● Cotton Candy Sugar Scrub
● 10 fluid ounces or 2.5 fluid ounces
● Handcrafted, made to order and/or in small batches to ensure freshness guaranteed
● All natural ingredients free of Animal Products, DEA, Mineral Oils, PABA, Parabens, Paraffin, petroleum, Phthalates, Propylene Glycol, Silicones, and Sulfates

HOW TO USE OUR SCRUB

Use in the shower or tub. Gently massage the skin for 1 to 2 minutes. Re-apply as necessary.

INGREDIENTS

Sucrose, Pumpkin Seed Oil, Coconut Oil, Emulsifying Wax, Beeswax, Stearic Acid, Phenoxyethanol, Caprylyl Glycol, Sorbic Acid, Fragrance.

DISCLAIMER

This product has not been evaluated or approved by the FDA. If rash or irritation exist, please discontinue use. If you are allergic to any of the products listed herein, please do not purchase for personal use. As with all products please keep out of the reach of children and pets. Not edible. For external body use only. Avoid eyes and any existing irritations on the skin.