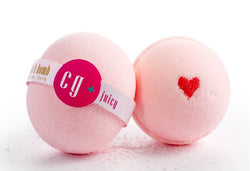 Round Sweet & Juicy Bath Bomb Fizzy
Round sweet and juicy artisanal bath bomb fizzy uplifting bath soak. This fruity scented bath bomb fizzy is round in shape and when splashed into your bath water explodes with fragrance and plant-based ingredients your skin will love you for. With a blend of cantaloupe, honeydew, watermelon and citrus top notes of mandarin, tangerine, grapefruit and lime and just a hint of juicy McIntosh apples you'll feel as though you escaped to neverland. This kid friendly bath bomb is perfect for both adults and children and comes with all the skin loving ingredients like avocado oil.
Moisturizing and uplifting this bath bomb is perfect for fun bath ideas for the little ones as they experience the foaming bubbly action and perfect for adults who need to escape the everyday mundane routines and stressors of the day for just a few minutes. A great gift to yourself, loved one or friend. 
These non-staining donut bath bombs are fun, colorful and large. Relax and unwind with handcrafted bath bombs that are made in small batches to guarantee freshness!
SPECIFICATIONS


● Sweet and Juicy Bath Bomb
● Large, 6.0 ounces 
● Handcrafted, made to order and/or in small batches to ensure freshness guaranteed
● All natural ingredients free of Animal Products, DEA, Mineral Oils, PABA, Parabens,
   Paraffin, Petroleum, Phthalates, Propylene Glycol, Silicones, and Sulfates
BENEFITS
Avocado oil is excellent for those with dry skin.
In addition to the helpful vitamins present, it also possesses nutrients like potassium and lecithin.
Potassium is important for new skin cell growth, and the skin cell renewal cycle is part of what keeps skin soft and supple.


INGREDIENTS

Sodium Bicarbonate, Citric Acid, Theobroma cacao (cocoa) Seed Butter, Persea Gratissima Avocado Oil, Colloidal Oatmeal, Kaolin Clay, Buttermilk Powder, Fragrance
DISCLAIMER

This product has not been evaluated or approved by the FDA. If rash or irritation exist, please discontinue use. If you are allergic to any of the products listed herein, please do not purchase for personal use. As with all products please keep out of the reach of children and pets. Not edible. For external body use only. Avoid eyes and any existing irritations on the skin. Please using caution entering and exiting the bathtub as the bath bomb may make the bathtub slippery.