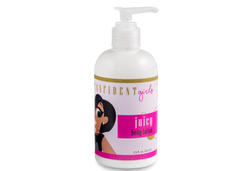 Juicy Tangerine Orange Blossom & Grapefruit Moisturizing Body Lotion
Juicy tangering, orange blossom and grapefruit moisturizing body lotion. Moisturize and hydrate your skin from head to toe with Confident Girls lotion! Whether you're trying to add moisture all over or those stubborn dry areas like knees and elbows our lotion is packed with skin loving nutrients that absorb deep into the skin for a polished glow feeling soft and subtle. An essential to add to your skin and body care daily routine. Light, non-greasy feeling leaves you silky smooth. 
Ruby red grapefruit and tangerine bring a zest to heady orange blossom and pineapple nectar in this blended formula to leave your skin moisturized and smelling amazing.
A great self-care gift to yourself, friend or loved one. Perfect for adding to skin and Bodycare gift baskets and more.
For more fun, moisturizing and rejuvenating skincare or gifts be sure to visit us at: Confident Girls.
SPECIFICATIONS
7.5-ounce Skin and body lotion
Juicy scented in tangerine, orange blossom and grapefruit top notes

Moisturizing and hydrating
BENEFITS
Manages acne breakouts
Lightens acne scars

Moisturizes and balances the skin

Absorbs easily

Evens skin tone
INGREDIENTS
Distilled water, Grapeseed Oil, Cocoa Butter, Emulsifying Wax, Phenoxyethanol (and) Caprylyl Glycol (and) Sorbic Acid, Phathalate Free Fragrance

DISCLAIMER

This product has not been evaluated or approved by the FDA. If rash or irritation exist, please discontinue use. If you are allergic to any of the products listed herein, please do not purchase for personal use. As with all products please keep out of the reach of children and pets. Not edible. For external body use only. Avoid eyes and any existing irritations on the skin.