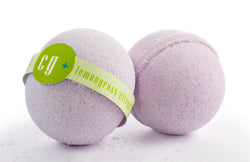 Luxury Aromatherapy Citrus Lemongrass Bath Bomb Uplifting Bath Soak
Luxury aromatherapy citrus lemongrass bath bomb for an uplifting bath soak. This bath bomb is everything that you ever needed and wanted. Packed with plant-based ingredients and invigorating scent that wakes up your senses.  Complete relaxation as you submerge yourself into the foaming and fizzy waters of your tub. Rich is nutrients and minerals this handcrafted bath bomb nourishes and moisturizes the skin as you relax.
Aromatic and uplifting this bath bomb is perfect for your evening self-care routine and even better when gifting. Great for bridesmaid proposal boxes, bridal shower gifts with cute messages and appreciated by new moms who need an at home spa style retreat. 

These non-staining donut bath bombs are fun, colorful and large. Relax and unwind with handcrafted bath bombs that are made in small batches to guarantee freshness!

For more fun, moisturizing and rejuvenating bath bombs, skincare or gifts be sure to visit us at: Confident Girls.

SPECIFICATIONS

● Lemongrass Citrus Bath Bomb
● Small 3.0, Large 5.5 ounces
● Individually wrapped
● Handcrafted, made to order and/or in small batches to ensure freshness guaranteed
● All natural ingredients free of Animal Products, DEA, Mineral Oils, PABA, Parabens, Paraffin, Petroleum, Phthalates, Propylene Glycol, Silicones, and Sulfates

INGREDIENTS

Sodium Bicarbonate, Citric Acid, Theobroma cacao (cocoa) Seed Butter, Vitis Vinifera (Grape) Seed Oil, Colloidal Oatmeal, Bentonite Clay, Buttermilk Powder, Mica, Titanium Dioxide, Manganese Violet, Tin Oxide, Fragrance/Essential Oil


DISCLAIMER

This product has not been evaluated or approved by the FDA. If rash or irritation exist, please discontinue use. If you are allergic to any of the products listed herein, please do not purchase for personal use. As with all products please keep out of the reach of children and pets. Not edible. For external body use only. Avoid eyes and any existing irritations on the skin.